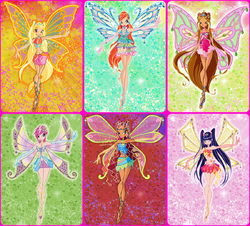 Enchantix is a transformation first seen in Season 3.
Requirements
Edit
In order for a fairy to earn Enchantix, she must make a major sacrifice for the well being of someone from her respective planet of origin. In this form, the powers of a fairy are very stronger, acquire the ability to be miniaturized and can break dark spells with fairy dust, which is contained inside a collar.
Fairies not always has to go to their respective planets to get their Enchantix, this was seen when Stella protected her father from a dragon in Eraklyon. Musa when she saved the Princess Galatea from a fire in Alfea and Tecna when she closed the portal of the Omega Dimension kingdom of Andros, but whose instability was a danger to a great part of the magical dimension, including her home planet Zenith.
Bloom was the exception to the rule. By believing in her power to overcome evil, learn to focus her energy with the sorceress Mya on Pyros and put aside the desire for revenge and anger that she was carrying. Bloom could transform by herself through force of will, also thanks that she found Buddy, her inner dragon, thus her Enchantix was not complete. Bloom earned her complete Enchantix at the end of The Secret of the Lost Kingdom movie by saving her home world and its people.
Enchantix Spells
Edit
Enchantix Sphere
Dragon Energy
Dragon Fury
Dragon Essence
Dragon Fire Fury
Fusion Fire
Dragon Flame Sphere
Dragon Shield
Enchantix Sunbeam
Enchantix Sunburst
Sunbeam Shower
Shower of Light
Ball of Sunlight
Enchantix Moon Shield
Sea of Light
Power of the Sun
Sound Cage
Sound Wave Attack
Enchantix Amplifier
Power of Sound
Sonic Shield
Disco Shell
Base Boom
Magic Base Boom
Electric Storm
Digital Blast
Techno Magical Union
Enchanted Ivy Wrap
Ivy Vine Wrap
Energy of Mother Nature
Enchanted Morfix
Morfix Shield
Morfix Spike
Morfix Tidal Wave
Morfix Surfboard
How it looks
Edit