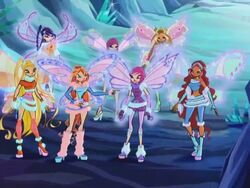 Lovix
is the second evolution and a higher fairy transformation for Believix Fairies, and is the second Gift of Destiny, known as "the Gift of Heart." It enables Believix Fairies to withstand extreme cold and have all of their unique fairy abilities based on ice and snow.
Only Roxy is not given this evolved and greater Believix form, as she is not a true Believix Fairy but remains on the basic Winx/Fairy level.
This evolved transformation was seen in the Season 4 episodes "Aurora's Tower" and "Bloom's Challenge."
Ice Flame
Ice Shield
Blooming Ice
Dragon Fire