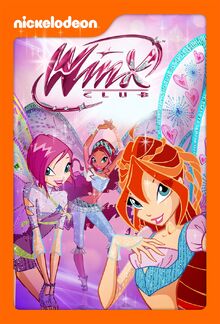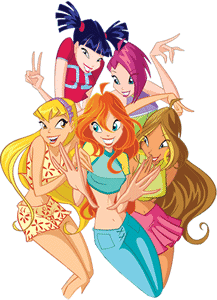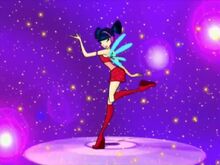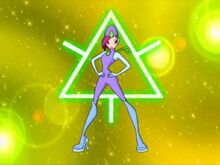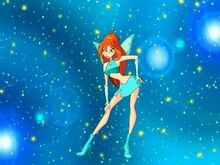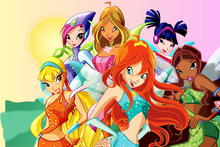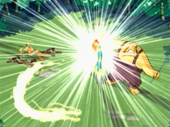 In this season Bloom meets Stella while at the park with Kiko her rabbit. Stella was in a battle with Knut a beast. Bloom wants to help and she does by using a magical energy shield with magical powers she never even knew she had. She takes Stella in and leans that she too has magical powers. She is the fairy of the Sun and Moon. She is from Solaria a kingdom on a different planet in a different dimension. Bloom's father Mike does not believe that Stella is a fairy, but she proves it by turning the phone into vegetables. Stella and Bloom later at night have tonight have to fight Knut again along with minions and an troll. Stella calls the specialists for help and show up just in time. Bloom and Stella meets Sky, Brandon, Riven, And Timmy. Later Bloom and Stella go to Alfea college for fairies. There she meets her roommates; Flora, Tecna, and Musa. Stella is her roommate also. They all go into the town Magix which is near the 3 schools in the magic dimension; Alfea the school for fairies which is the one Stella,Bloom,Flora,Musa,and Tecna goes to. The next school is Red Fountain the school for specialist where Sky,Brandon,Timmy,and Riven goes to. And last but not least, there is Cloud Tower the school for witches. The girls encounter 3 horrible witches named Icy, Darcy, and Stormy. The witches are trying to claim the most powerful power in the whole universe. The Dragon Flame. The dragon flame belonged to thedragonn who first created all the planets and worlds. He eventually got tired and chose to lie down on his home called domino. While returning to Alfea, Miss Faragonda, the head mistress, ( which is like the principle) is with Griseda, the head of disipline, is waiting for Bloom and the girls to return. As Bloom did not enter Alfea with her real name Bloom she entered as a different person since she did not apply to Alfea. She did not even know it existed until Stella showed up. So she entered as someone who was supposed to go but changed her mind. The teachers were waiting for the girls and knew that Bloom did not use her real name. Faragonda knew Blooms real life story. Although Bloom herself did not. She decided not to tell her and for her to find out the truth herself. Even if it would lead to who knows what kind of future for the whole universe. She knew that Bloom would find out one way or another.
Ad blocker interference detected!
Wikia is a free-to-use site that makes money from advertising. We have a modified experience for viewers using ad blockers

Wikia is not accessible if you've made further modifications. Remove the custom ad blocker rule(s) and the page will load as expected.